360° Interactive Mobile Solutions
Mobile Web Content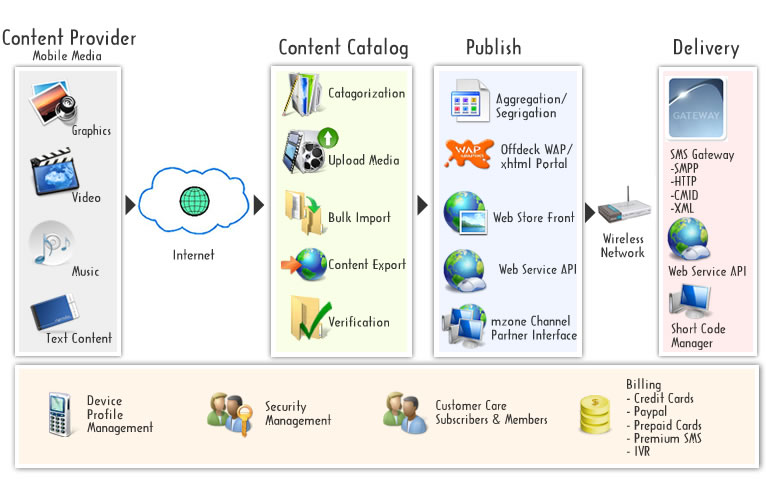 Mobile commerce solution to support and manage ringtone, gaming, messaging platforms, and billing as well as partnerships with content developers anddistributors
Wire2Air's Mobile content delivery platform provides a versatile platform to the new age Application Service Providers and Enterprises for managing, storing and distributing all their wireless media, images, sounds and streaming video to mobile subscriber base. The providers can benefit from a variety of revenue models, securely built around a multi-layer transaction engine.

Wire2Air MCDP is developed using state-of-the-art Microsoft .NET technology and has a highly scalable architecture. The system provides intuitive user interaction through its Web Interface, which makes Content Uploading, Managing and viewing Reports as easy as breeze.

Wire2Air MCDP offers an intelligent platform for the creation, personalization, conversion and distribution of mobile multimedia messages- supporting all messaging and network technologies.

Wire2Air MCDP enables operators and Value added service providers to manage and delivery large-scale multimedia contents.
Mobile Content via SMS
Features Of mobile content Management:
Centralized content management.
Intelligent content selection
Easy integration with externalcontent partners.
Dynamic front-end rendering
Supports multiple portals
Web, WAP and PDA, Premium-SMSsupport
Flexible delivery channels using SMS, MMS, WAP-Push, OMA-download, GCD and J2ME download
Content to device mapping
Device management service
DRM enabled
Third party interfaces APIs for content publishing, billing and delivery.
Web based administration.
Flexible architecture, just about every facet of MCDP can be tailored to provide an implementation customized to your specific needs.
Centralized Content Management:
Add, Edit, and Delete content of various media type (Ringtone, Wallpaper, Screensaver, TrueTones,J2ME applications, etc.)
Bulk import APIs.
Upload multiple version of given content e.g Midi, and MMF files for a polyphonic, J2me files for different devices.
Manage devices and devices' capabilities database. Administrator can specify the types of content that a device can handle by defining Device Capabilities. By mapping these capabilities to Devices it is possible to specify the different categories of content that a Device can handle.
Assign different file types to media type and devices. E.g *.Mid to Polyphonic-Nokia 3650, *.MMF to Polyphonic-Samsung.
Assign devices to a specific version of a given content.
Content Search functionality.
Preview content. MCDP comes with support of the following media types:

1. POLYPHONICS

2. MONOPHONICS

3. TRUE TONE

4. MUSIC TONE

5. VOICE TONE

6. WALLPAPERS

7. SCREEN SAVER

8. JAVA APPLICATIONS (GAME, & UTILITY)
New media type can be added with minimum or no changes in system.
Digital Rights Management
The Wire2air MCDP provides the ability to apply OMA DRM v1 Forward Lock and Combined Delivery to selective device.
Billing
Content pricing managed at country and media type level.
Supports multiple currencies.
Assign credits to media type, country and payment method. The credits can be overridden at content level.
Manage credit packages for monthly subscription or once time purchase.
Manage prepaid card serial and code numbers, assign cards to resellers.
MCDP has support for MO/MT, IVR, Credit Card, PayPal, and Prepaid card billing.
MEMBER SERVICES
Member signup, update profile, forget password services, etc.
Members can purchase individual items, credit packages or sign up for subscription packages.
Prepaid card activation.
Member download history recorded and available for members in members' area.
Member purchase history recorded and available for members in members' area.
Member can upload images and can create their own wallpapers.
Content Browsing features
Contents can be browsed by media type, category, and/or search by keyword, artist, album, title, ID etc.
Content can be rendered based on device selected.
Flexible web portal, use of style sheets, and use of master pages makes customization much easier.
Preview contents online.
Time bound content targeting.
External Portal Integration
The Wire2air MCDP provides XML-based API to allow integration with a customer's existing portal. The API gives portal developers full access to all data stored within the platform, allowing them to offer mobile content to their web-based users in a way that integrates with their existing web channel.
The Wire2air MCDP also offers Java script based API to allow integration with in customer's existing portal's HTML code, without any programming needs.
Wire2air Messaging router and gateway
Supported Message Types
Text Messages-single and multipart message encode and decode.
Picture Messages- 72x28 pixel BMP, JPG, GIF, NGG, NLM, NOL, OTB support. Unicode message text bodies
Operator Logo Messages - 72x14 pixel BMP, JPG GIF, NGG, NLM, NOL, OTB support. Support for custom MNC and MCC values,as well as single PDU optimization options
CLI Icon Messages (Group Graphics) - 72x14 pixel BMP, JPG, GIF, NGG, NLM, NOL, OTB support
Ring tone Messages - Multipart support for RTTTL, Imelody, and Nokia OTA formats.
Flash Messages - Unicode support, blinking support
GPRS/WAP- Polyphonic/Wallpaper/Screensavers/COD/GCD/DRM/J2ME
Multipart Support
True multipart support (not splitting) - if the target handset supports concatenation then the SDK can encode up to 255 PDUs for a multipart message
Full support for both encoding multipart messages.
Supports message payloads fo phones with >160 character (TEXT) message capability



Third party VASP HTTP Interface Supported Protocols:

SMPP
HTTP
SMTP
CIMD2
Mobile Content Benefits
Manage all your wireless media, images, sounds and streaming video centrally.
Sell your mobile content data through subscriptions, Premium SMS, Premium rate number and directly from your website.
Multi-layer transaction engine secures your revenues.
Highly scalable and built on Microsoft .Net technology is compatible with common e-business systems
Performance
The Wire2air MCDP Platforms are capable of servicing an unlimited number of users with an unlimited number of download. Any performance limitations will be enforced by the available system resources such as CPUs and storage and by the throughput capacity of the attached SMSC/MMSC network. The architecture makes intelligent use of the resources at its disposal to provide a system capable of very high throughputs, meeting the requirements of the most demanding situations.
Reliability
The Wire2air MCDP Platforms provid carrier- grade reliability and availability through use of:
Load balancers at all interface points
Microsoft.Net and Microsoft SQL Server Database Technology, providing high throughput and high availability database access.
Scalability
The Wire2air MCDP architecture provides powerful scalability options that meet a customer's current and forecasted performance requirements. The Wire2air MCDP architecture can be scaled across several nodes, with the addition of new nodes providing for an almost linear increase of system performance.

or any further questions about Mobile content and sms gateway , please contact sales@wire2air.com